Integrally-formed Biaxial (BX) Geogrids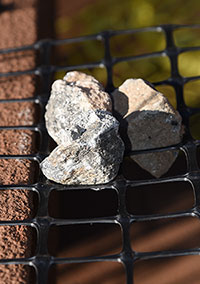 L.E. Geosolutions' integrally formed, stiff, biaxial (BX) geogrids are used to provide reinforcement for unbound aggregate layers. BX geogrids have been used extensively worldwide for more than 30 years and have gained formal recognition in the US from the likes of The US Army Corps of Engineers, The American Railway Engineering and Maintenance-of-way Association (AREMA) and more than 40 State Departments of Transportation.
Partial penetration of aggregate particles through the geogrid's apertures results in "Mechanical Interlock" whereby the two materials are joined to form a composite layer with enhanced structural properties. Performance benefits under traffic loading result from the geogrid-reinforced aggregate having enhanced stiffness which is maintained during the full design life of the structure.
| TYPE OF STRUCTURE | EXAMPLES |
| --- | --- |
| Unpaved Roads | Access roads, working platforms, low volume local roads |
| Flexible Pavements | Highways, parking lots, sub-division roads, etc. |
| Heavy Duty Pavements | Ports, intermodal yards, trans-load facilities |
| Sub-ballast & Ballast Layers | Heavy (Class 1) main lines, light rail/transit, sidings |
The reinforcement mechanism remains the same for all applications involving the use of BX geogrids; the value proposition does however vary. The benefits provided by BX geogrids in some of the main applications are shown below.



L.E. Geosolutions' products are manufactured using the highest quality standards possible. Our vendors' are fully accredited with local and international bodies and a full QA/QC document can be provided upon request. In addition, Mill Certificates can be provided for products sold on specific projects."